Powys Safety Solutions - Welcome
Powys Safety Solutions -
Safety, Health, Training & Consultancy
Who are we?


Powys Safety Solutions is like a friendly bus service. We transport businesses throughout the area; businesses who care about the well-being of their employees but may need assistance complying with the many and varied bits of legislation. We carry you safely through the Health & Safety maze while you enjoy the ride and get on with what you are good at - running your business. The benefits for you include a healthy and safe workplace with happy, productive staff, customer confidence, fewer claims and insurance costs and a business that complies with its legal obligations.
Who are our target business partners?


Successful, expanding businesses throughout the Mid Wales and Borders areas from sole-traders to nationals. If you care about your employees, we care about you. We give you the best service, so you can provide the best service to your customers.
Call now, or use the 'contact us' form for a no-obligation consultation.
More about Powys Safety Solutions services
Sensible Risk Management
Sensible risk management is about:
Ensuring that workers and the public are properly protected
Providing overall benefit to society by balancing benefits and risks, with a focus on reducing real risks – both those which arise more often and those with serious consequences
Enabling innovation and learning not stifling them
Ensuring that those who create risks manage them responsibly and understand that failure to manage real risks responsibly is likely to lead to robust action
Enabling individuals to understand that as well as the right to protection, they also have to exercise responsibility
Sensible risk management is not about:
Creating a totally risk free society
Generating useless paperwork mountains
Scaring people by exaggerating or publicising trivial risks
Stopping important recreational and learning activities for individuals where the risks are managed
Reducing protection of people from risks that cause real harm and suffering
Bill Callaghan
Chair of the Health and Safety Commission
---
Latest News
The new HS Law poster must be displayed in all premises by April 2014. We have supplies of these if you require them. More information on hse.gov.uk

ASBESTOS. Outsourcing UKATA approved Asbestos surveys, Asbestos Awareness, Non-licensed and licensed training
Secure caravan / motor home storage. Central Llanidloes - Call for details
---
Online store. Please contact our retail outlets: Llani Leisure, Llanidloes 01686 414893
or call Adele on 07729 186833
or shop online at our Llani Leisure shop
Online Payments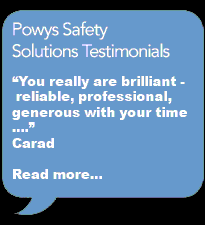 Where we operate
Powys Safety Solutions operate throughout Wales, Powys, Dyfed, Ceredigion, Gwynedd, Cheshire, Shropshire, Herefordshire, Gloucestershire, Worcestershire and the English borders.
Contact us and directions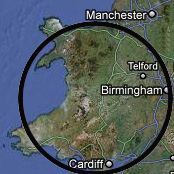 ---
Powys Safety Newsletters

We all pay the price


Use of personal fall-arrest systems
[link to hse.gov.uk]


HSE information on PAT testing - revised guidance


Control of Asbestos Regulations


Workplace Temperature


New RIDDOR arrangements


Information on employing youngsters


The Health and Safety (Offences) Act 2008


Low energy lights


Outdoor Pursuits Quality Badge


New guidance for fleet operators


Myths revealed


Recovery position - information

---
Green Dragon Award
As a company Powys Safety Solutions monitor and continually aim to reduce the corporate carbon footprint. Powys Safety Solutions is committed to the reduction of energy emissions, recycling of waste and saving fuel wherever possible.
By using eco friendly materials and equipment and utilising the greenest possible vehicles, Powys Safety Solutions has achieved accreditation to Level 2 of the Green Dragon Award.
---
Supporting Cambrian Mountain Initiative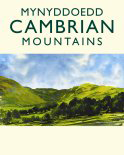 www.cambrianmountains.co.uk

Powys Safety Solutions on Twitter