Powys Safety Solutions
Who are Powys Safety Solutions?
Whether you need help with formulating a health & safety policy, risk assessing or fire risk assessing your business, creating a health & safety management system or writing a staff hand book, Powys Safety Solutions can help.
Whether you deal in office cleaning or farming, operate a transport fleet or offer accommodation, Powys Safety Solutions can help you to operate safely and more profitably.
There are three key ingredients for leading Health & Safety Management:
Worker engagement
Management commitment
and leadership
Health & Safety competence
By employing someone to help with your Health & Safety arrangements you are demonstrating commitment, and improving Health & Safety competence. By empowering a workforce to have a say in their Health & Safety arrangements we can develop loyalty, attract and retain talented workers, improve customer relations and increase productivity.
Who are our target business partners?
Successful, expanding businesses throughout Wales and England from sole-traders to nationals. If you care about your employees, we care about you. We give you the best service, so you can provide the best service to your customers. Call now, or use the contact form for a no-obligation consultation.
Where we operate
Powys Safety Solutions operate throughout Wales including Powys, Ceredigion and Gwynedd and throughout England including Somerset, Wiltshire, Cheshire, Shropshire, Herefordshire, Gloucestershire and Worcestershire.
Courses
Our online training courses can include screen share for up to 12 participants:
Accreditation
We offer support with Health & Safety Accreditation for SSIPs
such as CHAS, ConstructionLine, Safe Contractor, Exor, Safemark, Achilles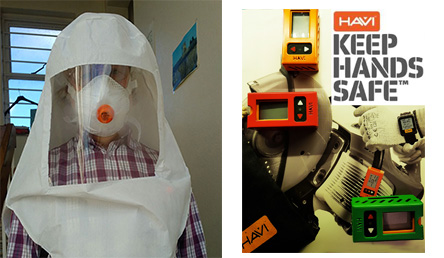 Face Fit Testing and Hand Arm Vibration
What can we help you with?
Our services are available on a pay-as-you-go basis, or, as popular with many of our clients, via an affordable monthly subscription based on your annual requirements - talk to us for your details.
Latest News
Asbestos Awareness training available
Approved by the IATP (Independent Asbestos Training Providers) - get in touch! In-line with HSE guidelines "Every employer must make sure that anyone who is liable to disturb asbestos during their normal work, or who supervises those employees, gets the correct level of information, instruction and training so that they can work safely and competently without risk to themselves or others."
Powys Safety Solutions Online Courses for further details
Face Fit Testing
Face fit testing is now a legal requirement for anyone who wears a tight (or close) fitting mask for work.
Powys Safety Solutions Face Fit testing page for further details.
Safety Schemes In Procurement (SSIP)
Need help applying for CHAS, Constructionline, Safe Contractor, Exor, Safemark, Achilles and more?
Powys Safety Solutions CHAS: The Contractors Health and Safety Assessment Scheme for further details.